Structural Insulated Panel Systems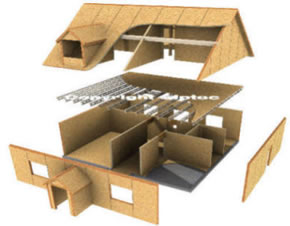 SIPS is the modern building method of choice for a fast, simple build that meets the highest standards of energy efficiency.
Using expanded foam sandwiched between two OSB panels the completed panel incorporates the insulation into the structure of the building, offering a simple yet incredibly strong and thermally efficient build. More information about SIPS can be found in the about SIPS section.
SIPS is currently being widely embraced by innovators, particularly within the self-build sector. However it is equally suitable for use in many other sectors, including; education, leisure, retail and social housing, with awareness of the huge benefits of building with SIPS growing among construction managers. Perhaps the greatest attraction of using SIPS is that it offers one of the most cost effective ways of meeting the Code for Sustainable Housing codes 4,5 and 6 and BREEAM standards of excellence.
Shire Timber Structures have been constructing timber frame panels in their large Leeds factory for over ten years, and have identified SIPS as the next step in the evolution of timber frame. With decades of structural timber experience Shire can offer a complete SIPS solution to any build, no matter how complex.

SHIRE SIPS Inclusive solution

Shire Timber structures are able to offer a hybrid solution whereby all the capabilities of Shire Timber can contribute to produce the most cost efficient building. SIPS Panels will always form the external fabric of a building but Shire can also provide timber frame internal and party walls, I Joist or Posi Joists to form Engineered Floors, Trussed Roofs, Versalam or Glulam Beams etc. to form the all inclusive high performance framed structure.

About Shire Timber Structures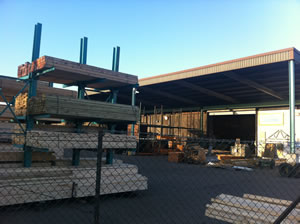 For over 15 years now Shire Timber has been servicing the timber needs of Yorkshire and Lincolnshire building organisations and merchants from its extensive site in Leeds. With a major roof truss, floor joist and timber frame factory Shire are the leading Yorkshire timber engineering company.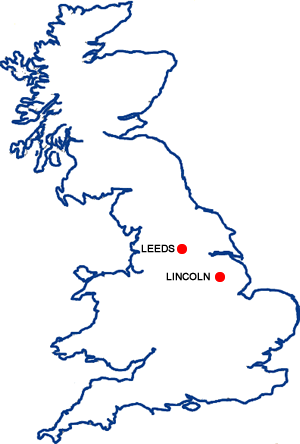 A desire to move forward and growing demand for Structural Insulated Panel Structures has led to the development of a SIPS Facility in Leeds with the aim of becoming the leading provider of SIPS Structures in Yorkshire, Lincolnshire and North East Region.

Geographically
The Cross Green, Leeds Facility offers a national service and can provide kits for self-building or carry out the design, manufacture and on site erection of buildings as part of a full package. Lead-in periods are competitive and we can work with you from early design stage advising on design and integrating suitable sustainable building systems and products compatible with the 'Fabric First' ethos of SIPS Panel buildings.